New Fact Book on Hispanic English Language Learners
A new fact book sheds light on Hispanic English Language Learners (ELLs). Released in January, the fact book from Excelencia in Education is titled The Condition of Latinos in Education: A 2015 Fact Book and brims with data regarding Hispanics in K-12 as well as beyond.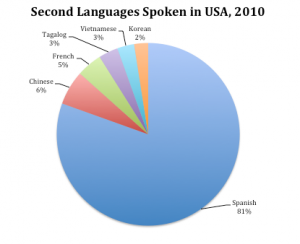 As the authors (Deborah A. Santiago, Emily Calderón Galdeano, Morgan Taylor) note, "this publication looks critically at the entire educational pipeline and the context in which our students are learning in order to better understand and inform decision makers about the multiple paths to success for Latino, and all, students. Data about the current condition of student educational achievement establishes a baseline from which to measure performance over time.
Data also helps stakeholders determine educational priorities for action, or select reform strategies to improve specific areas of educational achievement. However, data are only as good as they are used to compel action."
The report includes a National Snapshot of the Hispanic population in the U.S.; Latinos in Early Education; and, Education Themes including parent involvement.
The fact book takes reams of data about Latinos in education and brings it altogether in one place. This is an excellent reference book for educators at all levels as well as policymakers in the educational arena.
Learn more here.