Over the past few years, Illinois has experienced a surge in the number of English Learners enrolled in public schools. In an analysis of Illinois' Latino Demographic by Rebecca Vonderlack-Navarro, a PhD Research and Policy Analyst for the Latino Policy Forum, the state has experienced a 25% increase of English Language Learners from 2004 to 2011, with a majority of English Learners being Spanish speakers – a trend that has stayed consistent for the past decade. In fact, Hispanic students comprise 80% of all English Learners in Illinois and Illinois' class of 2020 is projected to become the first "majority-minority" group of graduates. However, there is a wide achievement gap between ELLs and non-ELLs and much has to do with the language barrier presented in school classrooms, especially when classes are primarily taught in English.
With such a disparity in academic success between ELL and non-ELL students, there is a need for equal instruction opportunities for ELLs particularly in the form of bilingual and second language programs. In a report conducted by the Illinois State Board of Education on Bilingual Programs and English Learners in Illinois, statistics showed that ELL students that reached satisfactory English proficiency levels through the enrollment of second language programs actually surpassed the scores of non-ELL students on the Illinois Standard Achievement Test for Reading (ISAT), thereby reducing the achievement gap.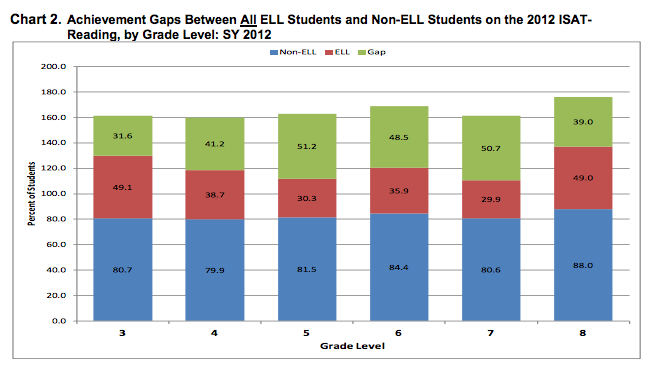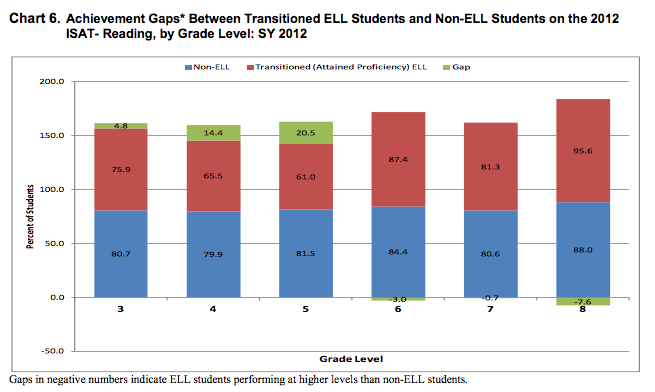 Illinois has identified the need for such programs and as a member of WIDA (World- Class Instructional Design and Assessment) is "dedicated to the design and implementation of high standards and equitable educational opportunities for English language learners". The Illinois School Code provides guidance and stipulations in assessing English Learners as well as determining bilingual program options and placement. Moreover, state and federal funds are available to districts for funding ELL services through Title III. The English Learning Division, a department within the Illinois State Board of Education, can provide more information and assistance regarding the education of ELLs in Illinois.
As to the nature of the programs, the Illinois State Board of Education does not require a particular educational approach to the instruction of ELL students, stating that "a number of different language acquisition models are considered to be educationally sound and supported by scientifically-based research", allowing districts to be flexible. A program like The Latino Family Literacy Project™ can help fulfill district needs for reaching out and educating English Learners. Our bilingual programs aim to increase English Language proficiency through the use of effective curriculum, culturally-relevant bilingual books, and parental involvement.