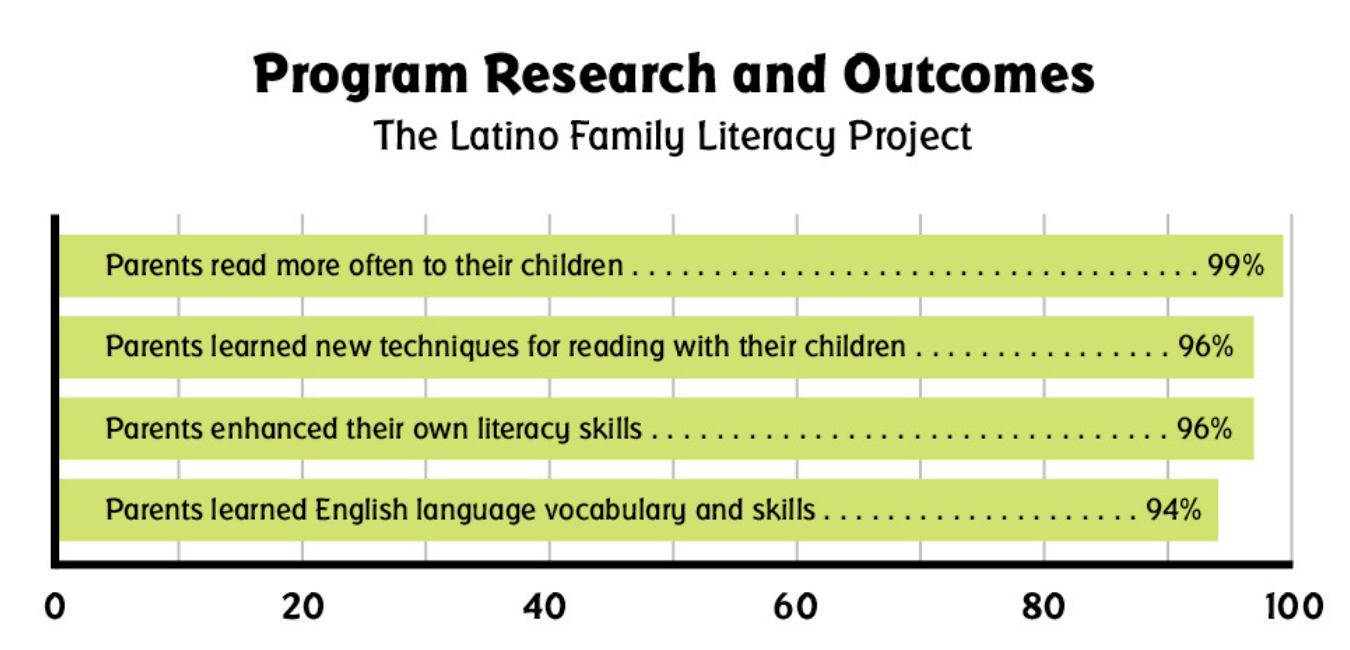 Evidence-based outcomes in Parent Engagement are important to demonstrate the impact that programs have on parents and students for academic support. Our program outcomes are compiled and updated each year. Trained providers submit their evaluations based on feedback and surveys from parents who attend The Latino Family Literacy Project meetings at their school.
Here are four recommended steps to consider when working with Spanish-speaking parents at your school:
Step 1: Be Specific in Your Efforts
Be cost-effective and specific in your efforts. There is an achievement gap in the test scores of Latino children and their counterparts that needs to be closed. In order to close the gap, you need Spanish-speaking parents to be part of the academic effort. The bottom line is that we all want to see real improvements in reading and vocabulary development, and this will occur by increasing parent involvement. The involved and engaged parent is directly linked to an actively engaged student.
Step 2: Offer Workshops to Develop Skills
Offer workshops and opportunities for leadership roles. Make Spanish-speaking parents ambassadors and leaders in workshops with other parents. When parents are participating in workshops with other parents and with teachers, you'll have a win-win situation. In The Latino Family Literacy Project™ parent programs, parents are able to master the following:
• Establish a reading routine with their children
• Discuss literature at home
• Tell family stories together
• Develop strong vocabulary
• Build English-language skills
Lectura Books publishes bilingual books and materials that are culturally rich, familiar, and truly engaging. They help parents develop confidence socially and academically. Parents often progress from participants to volunteers to ambassadors and leaders as they become more comfortable in the school setting. As a result, they spend more time with their children and a parent-child dialogue emerges around goals, school, and reading. Parents who graduate from the program reach out to other parents and their involvement continues to evolve and grow.
Step 3: Consider Culture and Backgrounds
Take the educational levels and cultural experiences of the parents into account. For some Spanish-speaking parents, the school-going culture in the U.S. might be unfamiliar, especially if they are from rural parts of Latin America. For others—those from urban areas, for example—their schooling experiences might be similar enough to transfer successfully into the school system here in the United States. Either way, the testing and achievement gaps of the children of Spanish-speaking parents are significant enough that you need to provide the most meaningful and skill-based programs to the parents in order to help them support their children in their schooling. So the question is are you being specific in your goals with parents and taking their educational levels and experiences into account in what you are providing to the parents? To obtain outstanding results, you will need to put a program in place that takes these factors into account.
Step 4: Invest in Cultural Competency Training for Educators
Prepare teachers to be culturally competent with a specific step-by-step curriculum. To prepare your teachers for successful parent involvement with Spanish-speaking parents, you need to provide a foundation for family literacy that respects Latino and Hispanic parents and helps teachers to understand the acculturation process. That means helping teachers understand how socioeconomic influences affect education, how to respect what parents already know, and how to work with diverse language and literacy skills in one classroom of parents and their children. Teachers leave The Latino Family Literacy Project™'s workshops with a renewed understanding of parent involvement and with greater cultural competency. The teachers are equipped with a specific, step-by-step curriculum to use with parents.
For more information, please visit: www.latinoliteracy.com