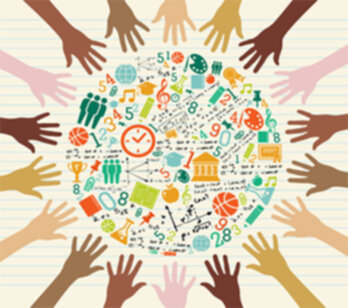 Equity and Access has become a big focal point of discussion across the country. Equity is the focus on ensuring that everyone receives what they need to be successful – even if it means being unequal across socioeconomic lines. According to the American Association of School Administrators (AASA), equity's primary concern is "creating school cultures that recognize and value diversity."
Students come to school with diverse backgrounds, languages, abilities and challenges. With a focus on Equity and Access, it means that our schools will have the capacity to differentiate instruction and resources to respond to the needs of their students, in order to benefit all students. Areas of focus may be related to socioeconomic disadvantages, language differences between English Learners and native English speakers, and students with disabilities. Research shows that equity in schooling is reflected in four broad areas: a) resource distribution, b) programs, c) school climate, and d) achievement.
Programs like Title I, Part A for Parent Involvement and Title III for English Learners help us to achieve equity, and staff development can help educators and stakeholders to provide culturally responsive education. Teacher training is a necessary tool for ensuring equity training and that culturally appropriate outreach efforts are made to support families. Much research has been done on how parents and communities can play key roles in school success.
The Latino Family Literacy Project can train school staff to support this area of Equity and Access for working with Hispanic parents and students. The award-winning programs and culturally competent framework for integrating Spanish-speaking parents into school academics are broken down in such a way that when teachers and paraprofessionals complete the training, they are ready to work together in their new outreach efforts with parents. Parents learn new ways of participating with each other at school and with their children using culturally relevant literature for reading comprehension, vocabulary development, ESL, and are provided with materials for home use.