Texas public schools have the intent of ensuring that all students become competent in speaking, reading, writing, and comprehending the English Language. However, almost a quarter of Texas' student population are at a disadvantage when classes are provided only in English. According to the Snapshot of English Language Learners (ELLs) in Texas by the Texas Education Agency (from the Public Education Information Management System Report 2014-2015), English Learners represent 18% of total enrollment in Texas public schools.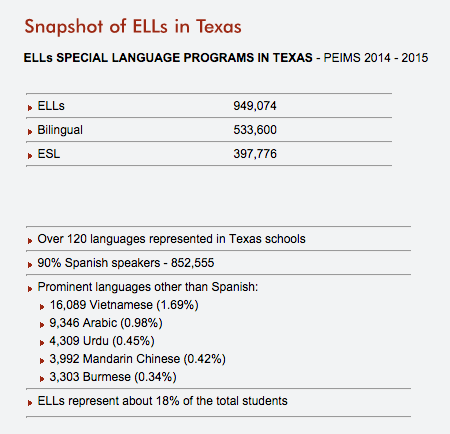 In order to meet the educational needs of ELLs, Texas state policy addresses the need to establish bilingual and second language programs. It's policy states that the "mastery of basic English language skills is a prerequisite for effective participation in the state's educational program. Bilingual education and special language programs can meet the needs of those students and facilitate their integration into the regular school curriculum." The policy further requires that the state provide guidance to Texas school districts in implementing a bilingual program and financial assistance so that they can meet the educational requirements of ELLs and the extra cost of these programs.
District Plans for English Learners
For a school district in Texas to establish a bilingual education and second language program, the district must follow provisions and guidelines set forth by the Texas Education Code. The Texas Education Code ensures that the goal of these programs is to enable ELLs to become competent in the English Language through the integrated used of second language methods. The Bilingual/ESL Unit, a Division of Curriculum for the Texas Education Agency, provides direction and leadership with the implementation of Bilingual and English as a Second Language (ESL) Programs for English language learners.
The Latino Family Literacy Project™ can help ELLs develop English vocabulary skills through the use of research-based curriculum. We offer staff development workshops that train teachers how to provide the program at their schools and work with english learners and parents of english learners, effectively. For more information on our programs, please visit us here.