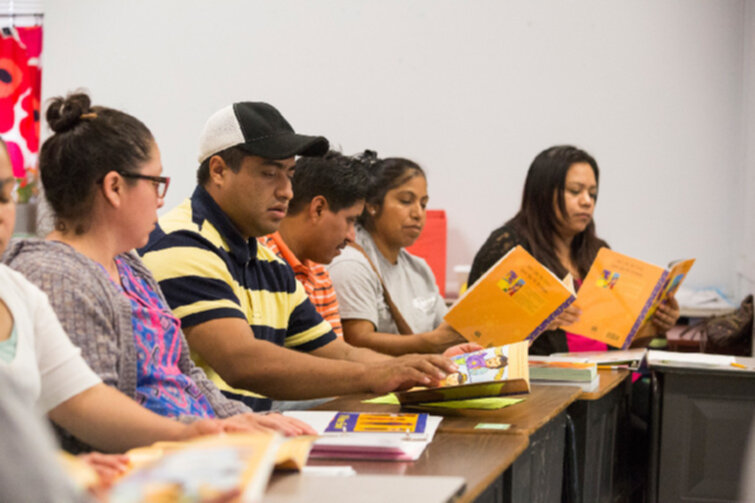 Title III requires that Family Engagement programs are culturally relevant to English Learners so that parents are engaged in meaningful ways.  English Learners require additional instructional support and bring parents in on the process with help to promote academic development. There are more than five million EL students in our nation's schools, many of whom come from families in poverty and attend lower-resourced schools.  
Teachers need professional development that would allow them to teach ELL students, but are they trained in working with Spanish-speaking parents.  A big challenge is that teacher may not speak Spanish, so they cannot communicate easily with parents. And as much as parents want to support their kids in school, the school work often comes home in English and parents really don't know how they can help.
Teachers also need additional support understanding issues of first language and literacy levels and how they relate to second language acquisition.  Beyond language related training, it helps for teacher to understand issues related to poverty, acculturation and family and community changes. This assists teachers in providing a culturally competent program for parents for a family-centered literacy program.
The Latino Family Literacy Project offers teachers and staff complete a half-day training in-person or via an online webinar.  Trained staff will then hold a series of workshops on the school site to assist parents in establishing a regular reading routine using bilingual books, and ESL skills for new vocabulary so that parents can help their kids with new vocabulary. Research shows that family reading time helps to improve literacy and strengthen vocabulary in both languages, not just for the kids but parents too!
Our College Awareness Program will help both parents and students to make attending college a reality.  This program and chapter book, outlines the steps that parents can take starting in middle school to support their kids and a focus on going to college.  
In-Person Workshops, Online Webinars, and District-wide trainings are available.  Please contact us at 1-877-LECTURA.