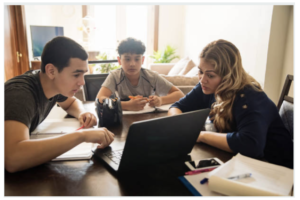 Communities throughout the country have been dealing with continuing uncertainty as schools reopen and classes, whether in-person or online, resume during the current pandemic. The Coronavirus has created a demanding environment for K-12 schools.
One thing we do know for sure is that the pandemic has put a lot of pressure on our teachers. Not only are teachers being called upon to teach remotely plus in-person in the hybrid teaching model, but they may also have their own personal and family situations, especially those teachers with their own children at home. In general, the balancing act for teachers is quite challenging. Teachers also have to prepare lesson plans for the hybrid model, make sure that their students are actually online and then, for those students most at risk, such as English-language learners and special needs students, double check they have what they need to learn and move forward.
Just think about what needs to be considered to reopen schools. First of all, administrators need to make sure that they do everything they can to reduce the spread of COVID-19. In many districts, testing procedures are in place while others are still deciding how to best proceed. Emergency protocols also have to be in place. Daily monitoring of teachers, students, and staff is called for. We have already seen that some schools have reopened, then experienced new outbreaks and had to temporarily move online or quarantine teachers and students.
In response to COVID-19, The Latino Family Literacy Project has surveyed a group of its trained providers across the country. We learned that many parents simply did not have what they needed to help their kids at home with academics. They lacked internet and digital devices, books and educational materials to help their kids learn at home. In addition, they were not prepared to teach at home. That's where our programs come in very useful!
Our parent engagement programs are designed to assist parents to learn new skills so they can help their kids at home. During COVID school closures, parents can attend meetings online and get the coaching and support that they need each week to support their children with academics. Most districts have decided to help parents to build home libraries and give them the books for our Preschool program, Elementary program, and even the College Awareness program. These kits include a workbook for ESL and building key vocabulary at home with kids. Our materials are bilingual to help parents understand the materials and how to help their students. We now offer direct shipping to households to help reduce this step for school staff.